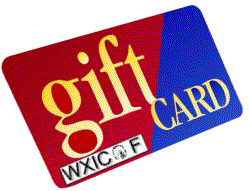 To purchase a gift certificate click the amount of the card you would like to purchase.
After your order is processed you will receive an email with your Gift Certificate Code.
Fine Print:
To redeem your gift certificate type in your Gift Certificate Code in the box that reads "Redeem Gift Certificate" when checking out.
Your gift certificate will expire one year after it is purchased.
Your gift certificate is good for any item(s) on our website.
Your gift certificate can be used by you or your family or friends. Simple give them your Gift Certificate Code.
You do not need to use your gift card all at once. You can use the remaining balance on another shopping day.
If you do not recieve your Gift Certificate Code within 48 hours of placing your order, please contact us at:
1-888-4-WXICOF (1-888-499-4263) or
No returns or exchanges on the purchase of Gift Certificates.