Marsupial & Small Mammal Feeding Supplies
(Kangaroo, wallaby, fox, sugar glider, hamster, guinea pig, ferret, puppy, kitten, etc)
Our T-Series nipples (T1, T2, T3, T4) are made in Australia by people who hand-raise a wide variety of marsupials as well as other animals. The nipples are made of a very soft material, which is excellent for feeding animals. Due to the way in which the nipples are made, there may be slight differences in each of the individual nipples.
All of the T-Series feeding teats fit well on our 30ml, 60ml and 120ml bottles.
(For best results it is recommended the T-Series nipples be used on these bottles, although the T-Series nipples may also fit other brands of bottles that can be found at most pet supply stores.)
T-Series nipples listed below are supplied with no hole. To make a hole: use a needle to poke a small hole in the end of the nipple.

Sorry, we do not carry marsupial milk. To buy Bioloac, (marsupial milk), go to www.peeweespamperedpetproducts.com


T1 - Long Round End
Approx. 3" long
T1 Joey Teat for:
wallaby, kangaroo, wallaroo
T1 is more highly recommended by our customers for the feeding of orphan wallabies, kangaroos, and wallaroos.
$2.75 each


T2 - Long Pointed End
Approx. 3" long
T2 Joey Teat for:
wallaby, kangaroo, wallaroo
$2.75 each


T3 - Short Round End
Approx. 2" long
T3 Multi Purpose Small Animal Teat for:
puppy, possum, fox, etc.
$2.75 each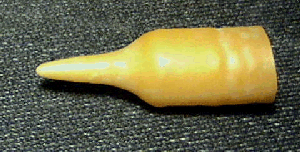 T4 - Short Pointed End
Approx. 2" long
T4 Multi Purpose Small Animal Teat for:
possum, kitten, sugar glider, etc.
$2.75 each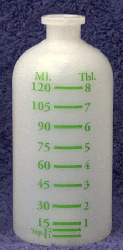 120 ml Bottle
120 ml Bottle
New wide lip design - holds nipple on better!
Fits all T-Series Nipples
Marked in Tablespoons (Tbl) & ml
Marked: 1 Tablespoon - 4 Tablespoons (15 ml - 60ml)
with Teaspoon markings up to 1 Tablespoon.
$4.25 each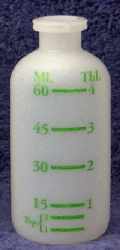 60 ml Bottle
60 ml Bottle
New wide lip design - holds nipple on better!
Fits all T-Series Nipples
Marked in Tablespoons (Tbl) & ml
Marked: 1 Tablespoon - 4 Tablespoons (15 ml - 60ml)
with Teaspoon markings up to 1 Tablespoon.
$4.25 each
30 ml Bottle
30 ml Bottle
New wide lip design - holds nipple on better!
Fits all T-Series Nipples
Marked in Teaspoons (Tsp) & ml
Marked: 1 Teaspoon - 6 Teaspoons (5 ml - 30ml)
$4.25 each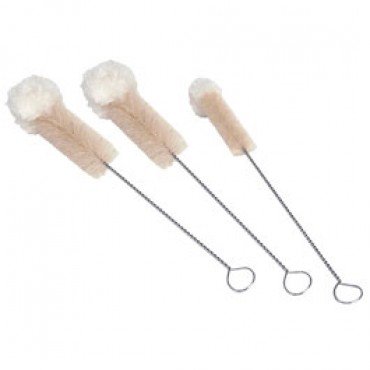 Bottle Brushes - Set of 3
Soft Tip Bottle Brushes - Set of 3
Pack of three brushes is perfect for cleaning small bottles.
The smallest brush fits well into our 30ml, 60ml, and 120ml bottles shown above.
They can also be used for cleaning craft projects and other delicate hobby items.
Microfiber tips.
Brush sizes:
3", 4", 5"
Item # CB20530
$11.95 set of 3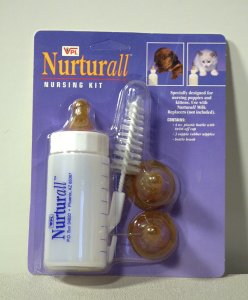 VPL Brand Nurturall 4oz. Nursing Kit
VPL Nurturall 4oz. Nursing Kit
Specially designed for nursing puppies and kittens
Can be used for other small animals
Bottles marked in Tablespoons
Contains:
1 - 4oz plastic bottle with twist off cap
3 - Supple Rubber Nipples
1 - Bottle Brush
Item # VPL99024
$4.50 each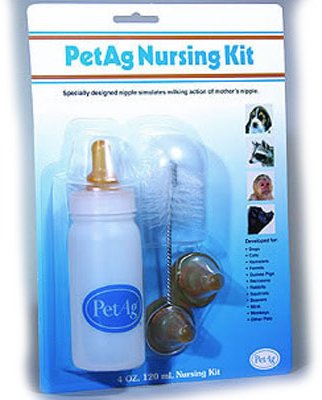 Pet-Ag 4oz. Bottle with 3 Nipples & Bottle Brush
Pet-Ag 4oz. (120 ml) Pet Nurser Kit
Bottle with 3 Nipples & Bottle Brush
Developed for nursing puppies, kittens, monkeys, and other pets.
Bottle made of durable plastic & marked in ml & Tablespoons
Nipples supplied with no hole
Item # PA99803
$9.95 each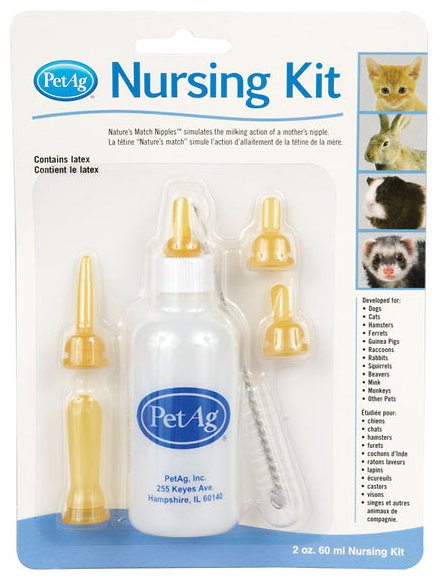 Pet-Ag 2oz. Bottle with 5 Nipples & Bottle Brush
Pet-Ag 2oz. (60ml) Pet Nurser Kit
Bottle with 5 Nipples & Bottle Brush
Developed for dogs, cats, hamsters, ferrets, guinea pigs, raccoons, rabbits, squirrels, beavers, mink, monkeys, and other pets.
Comes with 3 different shaped nipples.
Bottle made of durable plastic & marked in ml & Tablespoons
Nipples supplied with no hole
Item # PA99800
$5.49 each
Replacment Nipples for Pet-Ag 2oz. Bottle
Replacement Nipples for Pet-Ag 2oz. Bottle
5 Pack
These are the same nipples as supplied with Nurser Kit Item #99800
Sold in packs of 5 only.
Nipples supplied with no hole.
Size: Approx 1", from base to tip
Item # PA99809
$4.95 pack

Elongated Nipple for Pet-Ag 2oz. Bottle
Pet-Ag Zoological Elongated Nipple (for Pet-Ag 2oz. Bottle)
5 Pack
Sold in packs of 5 only.
Use for marsupials or other small animals.
Fits Pet-Ag 2oz. Nurser Bottle from Item #99800
or any volume luer-lock syringe.
Nipples supplied with no hole.
Size: Approx 1 ½ ", from base to tip
Item # PA99808
$6.45 pack
Pet-Ag 2oz. Bottle with Nipple
Pet-Ag 2oz. Pet Nurser Bottle with Nipple
Specially designed for nursing puppies and kittens
Can be used for other small animals.
Bottle made of durable plastic
Nipple supplied with no hole
Item # PA99801
$2.00 each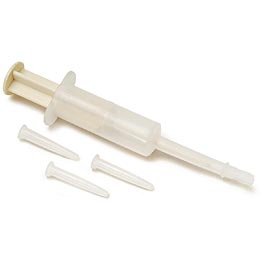 Mothering Kit
Mothering Kit
Easy-to-use aid for faster feeding of baby animals.
Ideal for controlled feeding of weak, young, or very small animals.
Dish-washer safe. Reusable.
Comes with 3 nipple tips and 1/2 oz syringe.
Item # J788
$4.95 each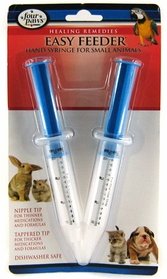 Easy Feeder Hand Feeding Syringe
Four Paws Easy Feeder is a safe and non-toxic syringe dispenser that is excellent for administering liquid medications and formulas to puppies, kittens, birds, reptiles and other small animals.
Maximum volume is 1/2 oz (14cc).
Comes with 1 tapered tip syringe & 1 nipple tip syringe.
Item # FP19100
$6.75 each



Feeding Tube w/Syringe

Feeding Tube with 60cc Syringe
Use to tube-feed weak newborn kids that won't nurse. 60 ml poly syringe with a long, flexible feeding tube. Tube slides down throat to stomach, past air passage. Feed colostrum or milk directly.
Sterile, Single use only.
Tube Size: 14 Fr (4.7mm)
Tube Length: 16 in (41 cm)
Syringe Size: 60ml (60cc, 2.03 oz), marked in ml & oz.
Item # S7W6
$6.50 each


60cc Syringe with
Catheter Tip

60cc Syringe with Catheter Tip
60cc (60ml, 2.03 oz), marked in cc & oz.
Item # MJ560141
$4.50 each